DFS - Highlights of Project Metrics
Bosnian Definitive Feasibility Study

16 September 2021
Table 1: Key Metrics 2021 DFS vs 2020 PFS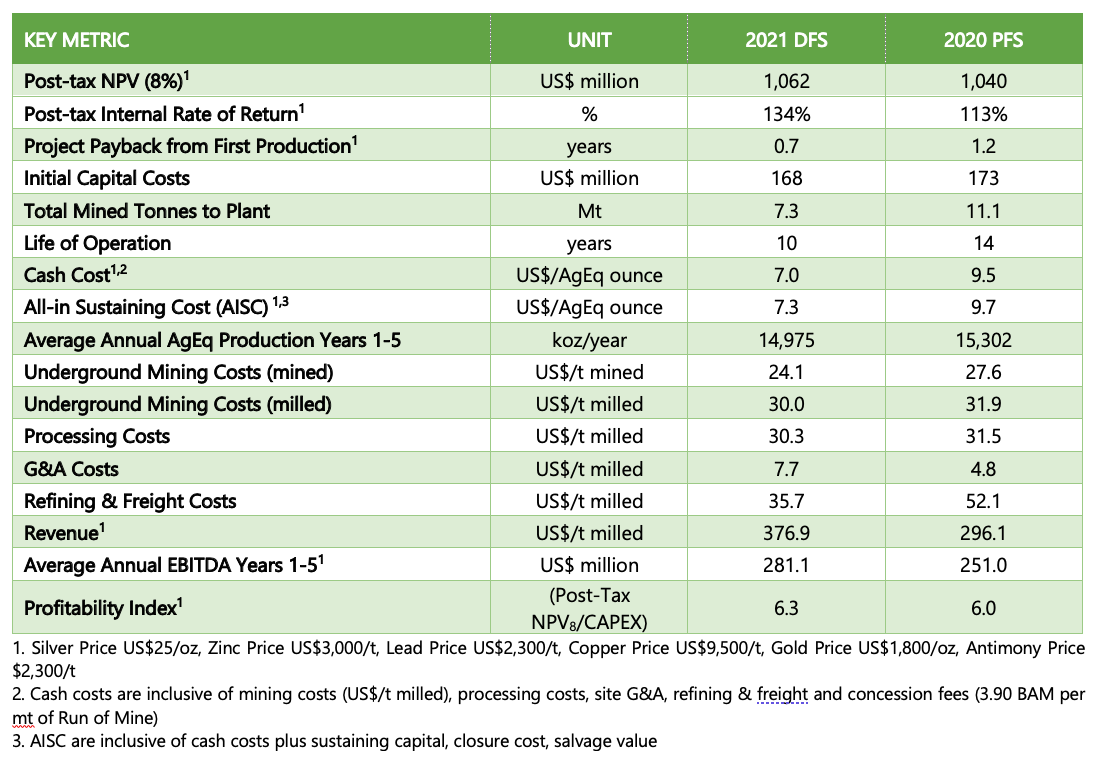 Context
The Vares Silver Project hosts two Mineral Resources; the Rupice underground deposit ("Rupice") and the Veovaca open pit deposit ("Veovaca"). The two deposits are located approximately 11 km apart. Veovaca was a previously operating open pit mine producing lead, zinc and barite concentrates that ceased operations in 1988. The potential economic viability of the Rupice deposit was only determined in 2017 after it was acquired by Adriatic Metals earlier the same year.
The 2021 DFS has only considered the Mineral Resources and Reserves of Rupice and the mine plan does not include mining of Veovaca at this time.
The Company completed a Scoping Study, coordinated by CSA Global, in September 2019 which showed the positive economic potential of the Vares Silver Project. The 2020 PFS, coordinated by Ausenco, was started in January 2020 and was released in October 2020. Once again, the project demonstrated very positive economic outcomes.
Following the completion of the 2020 PFS, an internal review was undertaken with Ausenco and the Company's team of SMEs, to determine options for further optimisation during the 2021 DFS.
The principal considerations at the outset of the 2021 DFS were as follows;
Optimise the mine plan to maintain consistent high-grade feed for as long as possible
Take into consideration the prevailing market conditions
Maximise revenue received from concentrate sales
Optimise operational efficiency and reduce costs
Reduce potential adverse environmental, social and economic impacts
Minimise project execution risks
In light of the principal considerations, the decision was taken to adjust the study scope to;
Exclude mining of the Veovaca open pit
Exclude the recovery of barite concentrate
Exclude the recovery of sulphide (pyrite) concentrate
This is the basis on which the 2021 DFS was developed.
The 2021 DFS, coordinated by Ausenco, commenced in March 2021, with the following areas of responsibility split up among various other consultants. In addition, the Company's internal technical team provided support across many of the areas of responsibility.
Table 2: Breakdown of consultant responsibilities in 2021 DFS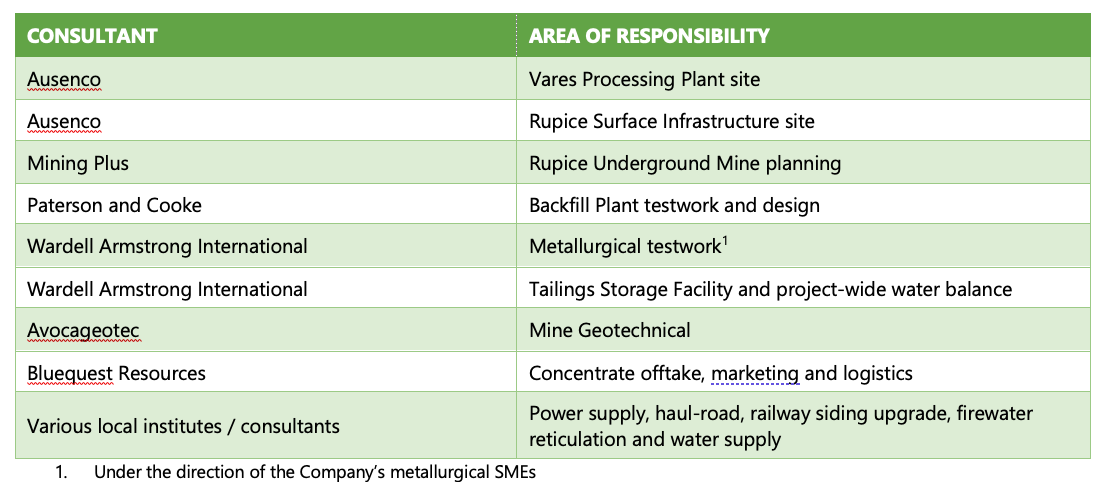 Detailed Scopes of Work, Bills of Materials and specifications were produced, from which requests for proposals ("RFPs") were tendered to multiple contractors and suppliers. All proposals received were technically and financially assessed, with the pricing subsequently used in the cost model taken from the selected preferred bidder. This ensured that the cost of each work package was supported with a realistic bid.
With the assistance of Bluequest Resources, a tender process was initiated for the offtake of the two concentrate streams. The submitted proposals from the potential off-takers went through multiple rounds of negotiations, which formed the baseline assumptions for the concentrate terms, treatment and refining charges, and payabilities.